500cc Plastic Bottle Fruit Juice Tea Filling Production Machine
PLC Control:Simens
Company name: Zhangjiagang Reliable Machinery Co.,Ltd
Tel: 86-512-5855 0068
Fax: 86-512-585 50997
Mobile:+8618551189339
Address: Jiangfeng Road , Yangtze Riverside Development Zone, Zhangjiagang City ,
Jiangsu Province
Zip 215600
Independent website: reliable-machinery.en.made-in-china.com
Introduction of Juice Filling Machine
Juice and tea beverage

Juices and teas are one of the fastest growing beverage segments worldwide, with healthier lifestyles, urbanisation and improved retail infrastructure all driving this development.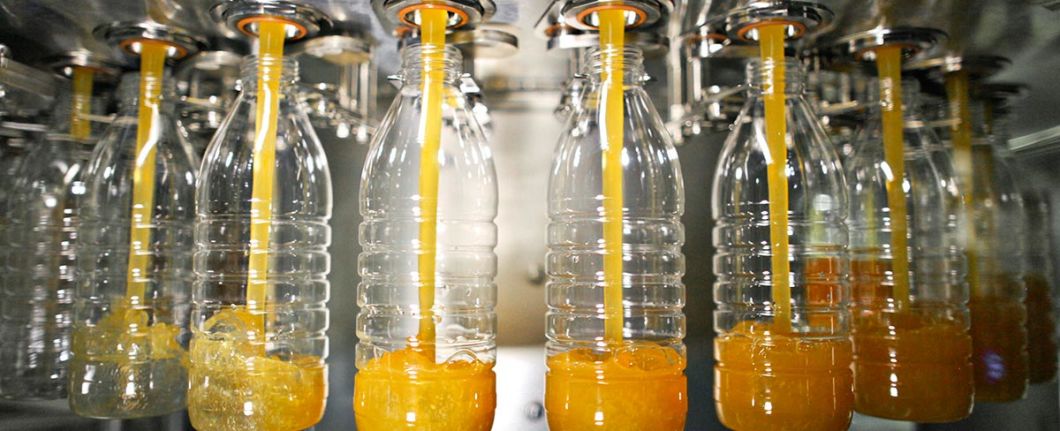 Introductions of Juice Filling Machine

1.The appearance of the juice filling machine is beautiful and the function is complete.Its operation and maintenance is convenient.Its automation is high.

2.The advanced technology from Germany and Italy are employed.The speed of filling is fast and the flavored juice amount is controlled accurately.The filling device can be stopped automatically when there is no bottle or bottles are damaged.The advanced machine runs smoothly with low noise.

3.The magnetic torque is used for screw capping.The power of screw capping can be adjusted without steps.The power of the screw capping can,also be fixed,and the caps will not be damaged,the capping is reliable.

4.Horizon swirl air power caps sorting device is used to avoid damaging the surface of caps,and there is a shortage of caps in the caps storage tank,an alarm signal will be generated and the caps will be fed automatically.

5.The whole juice filling machine / production line is controlled by PLC with touch-screen as the interface.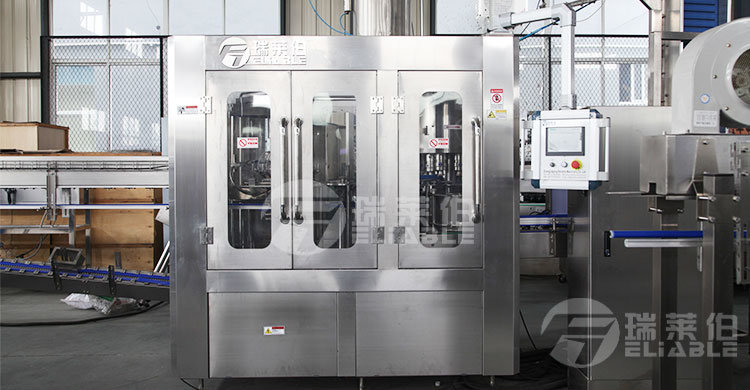 The all parts of RELIABLE juice filling machine
No
Product Name
Remark
1
Air conveyor with one fan
2M For Free
2
3 in 1 main machine
Washing Filling Capping
3
Recirculation tank
SUS 304
4
Flat conveyor with one motor
2M For Free
5
Cap loader
Full Automatic (High configuration)
6
Light checker
Free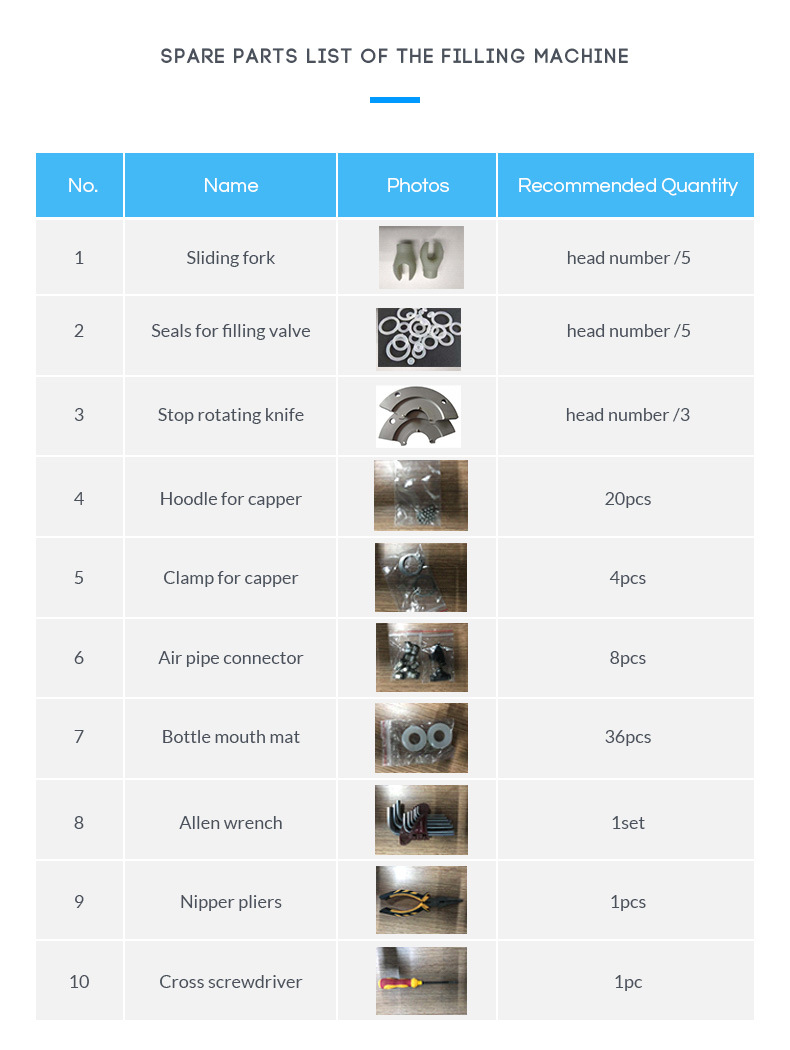 Processing of Juice Filling Machine
Air conveyor with one fan
>> Deal empty bottle conveying equipment.
>> Driven by wind, high conveying speed and low noise.
>> All food grade SUS304/316 design.
>> Ultra-high molecular polyethylene materials with low frictional resistance and high abrasion resistance.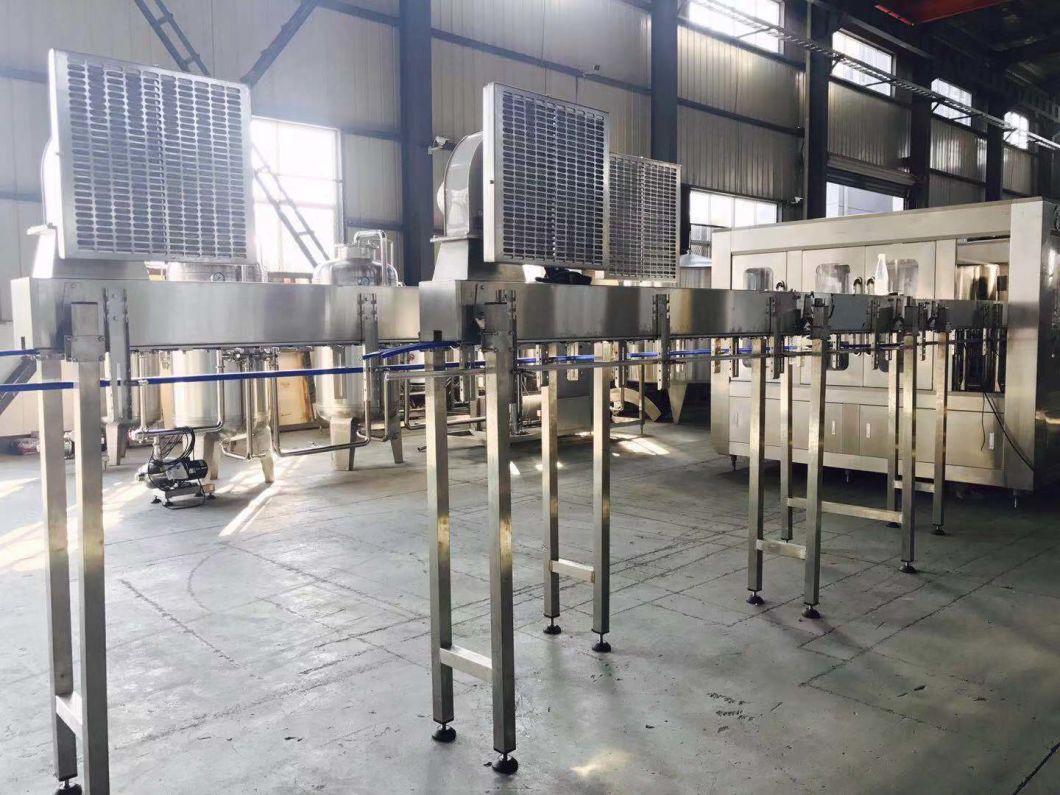 3 in 1 of Juice Filling Machine
>> The fan blows the bottle through the air duct to the No. 1 card bottle plate, and the bottle is brought to the bottle washer by the No. 1 card bottle plate.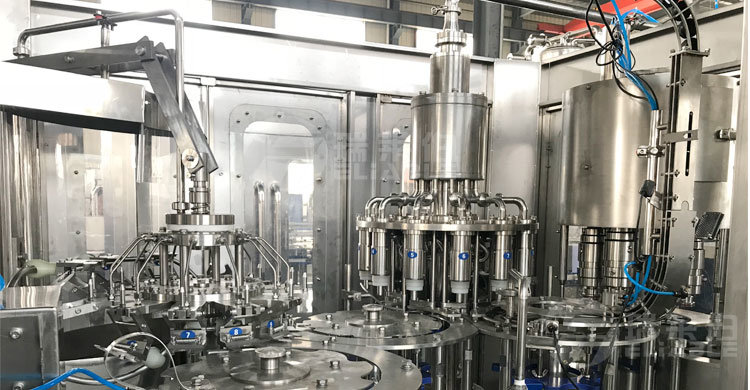 Washing Part of Juice Filling Machine
>> It is mainly composed of a bottle head, an upper disc and a guide rail.
>> The bottle head rotates with the upper disc, and the bottle neck clamp is used to clamp the filling bottleneck, and the rail is flipped by one hundred and eighty degrees, rinsed and dripped, then flip 180°.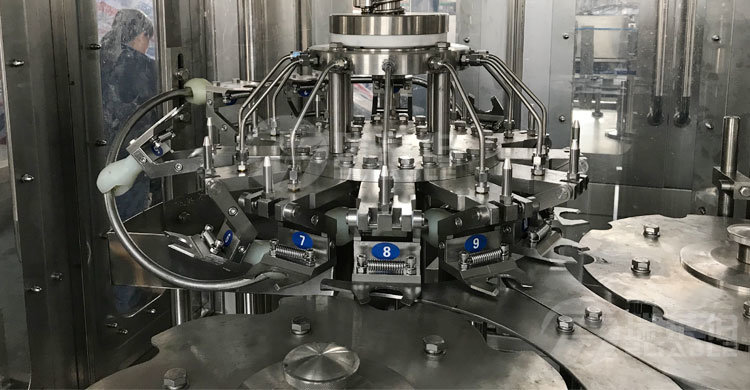 Filling Part of Juice Filling Machine
>> It mainly consists of water tank, filling valve, guide rail and card bottle lifting device.
>> The No. 2 card bottle plate is fed into the filling machine, the bottle bottle plate is filled to hold the bottle neck, rotates with the water tank, etc., and the filling valve is opened by sliding on the guide bar according to the guide rail, and the filling valve is lowered after the filling is completed.
>> Filling valve, filling valve closes by itself. The bottle is sent out of the filling machine with the No. 3 card bottle.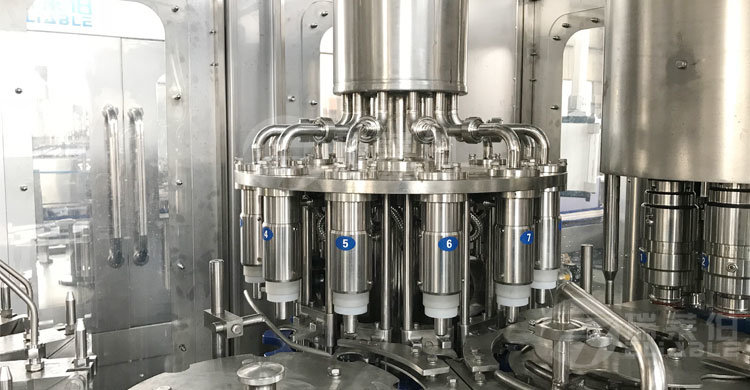 Capping Part of Juice Filling Machine
>> The capping mechanism is composed of three parts: a capper, a capping machine and a capper.
>> The bottle is fed by the No. 3 card bottle plate, the card cover is completed, and the cap plate is sent out by the No. 4 card bottle plate.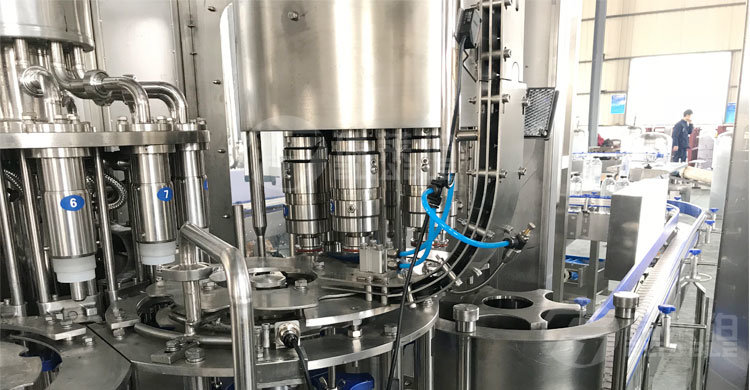 Recirculation Tank
>> The finished water returned from the filling valve flows to the reflux tank, and then the return water is pumped into the heating device through the plastic pump of the reflux tank, heated to the required temperature and then flows through the main pipe to the filling barrel.
>> There is a certain negative pressure in the return tank to facilitate the return of the liquid in the filling valve.

Flat Conveyor With One Motor
>> Designed by module, component can be interchanged easily, have flexibility to combine the bottle type according to the different capacity.
>> Both sides of the fence can be adjusted to make sure the bottle does not fall during delivery.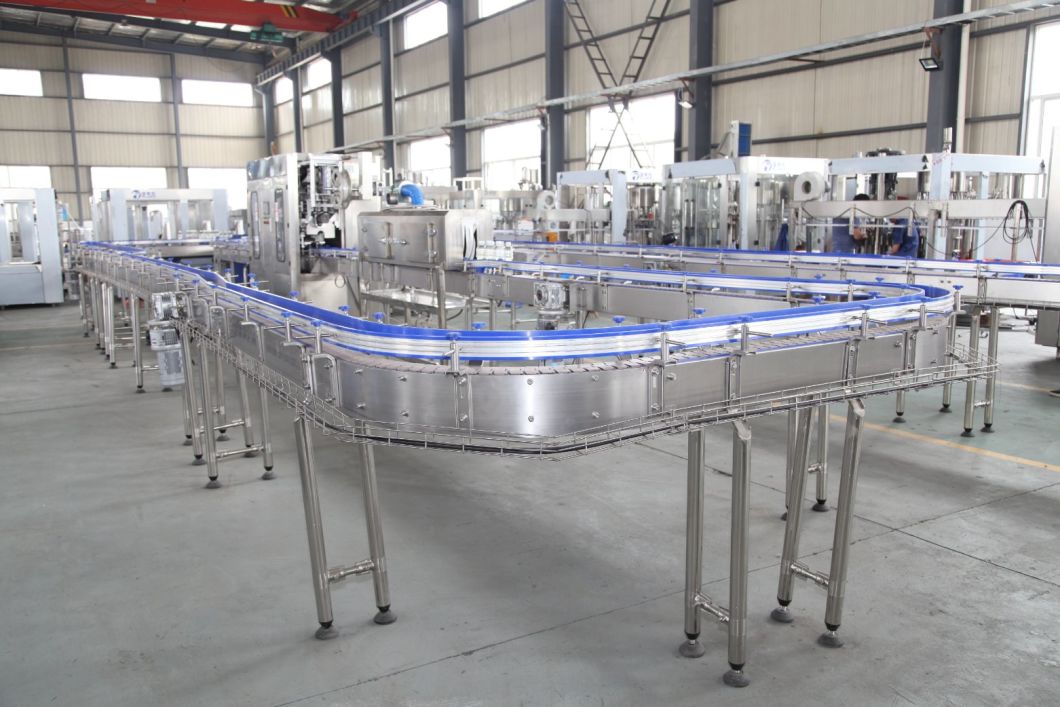 Technical Parameters of Juice Bottle Filling Machine
Model
CGFR8-8-3
CGFR16126
CGFR18186
CGFR24248

Number of washing, filling and capping heads

8-8-3

12-12-6

18-18-6

24-24-8

Production capacity (500ml)
(B/H)

2000

4000

5000-6000

10000-12000

Suitable bottle specification(mm)

volume=330-2000ml

φ=50-110 H=150 ~340mm volume=330-2500ml

Washing pressure(kg/cm 2 )

2-3

Motor power(kw)

Main motor
1.9kw
Main motor
3.5kw
Main motor
4.0kw
Main motor
4.8kw

Overall dimensions (mm)

1900*1420*2000

2450*1800*2400

2650*1900*2400
2900*2100
*2400

Weight (kg)

1500

2500

3500

4500

Model
CGFR32328
CGFR404012
CGFR505015
CGFR606015

Number of washing, filling and capping heads




32-32-8




40-40-12




50-50-15

60-60-15

Production capacity(500ml)
(B/H)

12000-15000

15000-18000

20000-22000

22000-25000

Suitable bottle specification(mm)

φ=50-110 H=150~340mm Volume=330-2500ml

Washing pressure(kg/cm 2 )




2-3

Motor power(kw)

Main motor
7.6kw
Main motor
8.3kw

Main motor 9.6kw

Main motor 15Kw

Overall dimensions (mm)

4100*2000
*2400
4550*2650
*2400
5450*3210
*2400
5500*3510
*2400

Weight (kg)

6500

8500

9800

12000
Full Automatic Plastic Bottle Lemon Juice Beverage Water Filling Machine
Reliable RFQ
Q1:How can we get your suitable machines / production line ?
A1: 1) Let me know what kind of products will you produce?
2) Let me know what is the capacity (per hour) you want?
3) Let me know what kind of package, plastic bottle, glass bottle: volume, height, neck diameter, diameter of bottle or other please informs us of details.
Q2: Do you have any technical supports with your Beverage Filling Machines?
A2: Yes, We have a professional team of engineers who owned many installation, debug and training experiences abroad, are available to service machinery overseas.
Q3: What kind certificates you already passed ?
A3: We already passed CE, SGS, CIQ, ISO etc.
Q4: What's Maintenance Reliable can supply?
A4: Offer 12 months maintenance period to the problem that caused by our design, manufacture and the material quality, and offer the relevant parts and effective service for free for above reason and send out within 24 hours. We will offer a widely and favorable technical support, after service all the time after guarantee period.
Q5: Are you manufacturer or trading company ?
A5: We are industrial manufacturer, which locates in Zhangjiagang city about 10years, and begin to export our machines and provides oversea installation services since 2010 .

Full Automatic Plastic Bottle Lemon Juice Beverage Water Filling Machine
RELIABLE FACTORY
RELIABLE supply and manufacture the followings machines for you
1) Water treatment equipment---RO purified equipment, UF purified equipment, Sand filter, Carbon filter, Water softner, Sea Water treatment.
2) Filling Machine ---3 in 1 Washing filling capping---for your water,cabonated drink,
juice,wine,vinegar, milk,tea and so on.
----150 to 2000ml bottle, 3.5-10L,11- 20L bottle (3-6gallon bottle)
---PET bottle, Glass bottle, PP bottle and Can
----Screw cap, Aluminum cap, Grown cap and three (four) twist caps etc.
3) Labeling Machine ---Stick label, Shrink sleeve label, Hot melt Opp labels. Wet gule label
4) Printer , Manual code printer , Inkjet printer , Laser printer
5) Packing Machine ----Shrink film, Cartons packing machine
6) Bottle Blowing Machine --- for making plastic bottle
7) Injection Molding Machine ---for your cap and proform.
8) Auxiliary products for drink production ---Bottle Washer, Bottle Capper, Conveyor, Bottle Dryer, Bottle Warmer, Bottle Loading system, Bottle unscrambler, CIP system, Bottle Cooler, Bottle Sterilizer, Blending tank, Storage Tank, Sugar Melting Pot, Syrup Filter Conveyor and so on.
RELIABLE will supply you bottle design, label design, workshop design free and make turnkey project equipments for you.
Don't hesitate to contact us if you show interesting on our beverage production machine and our RELIABLE company.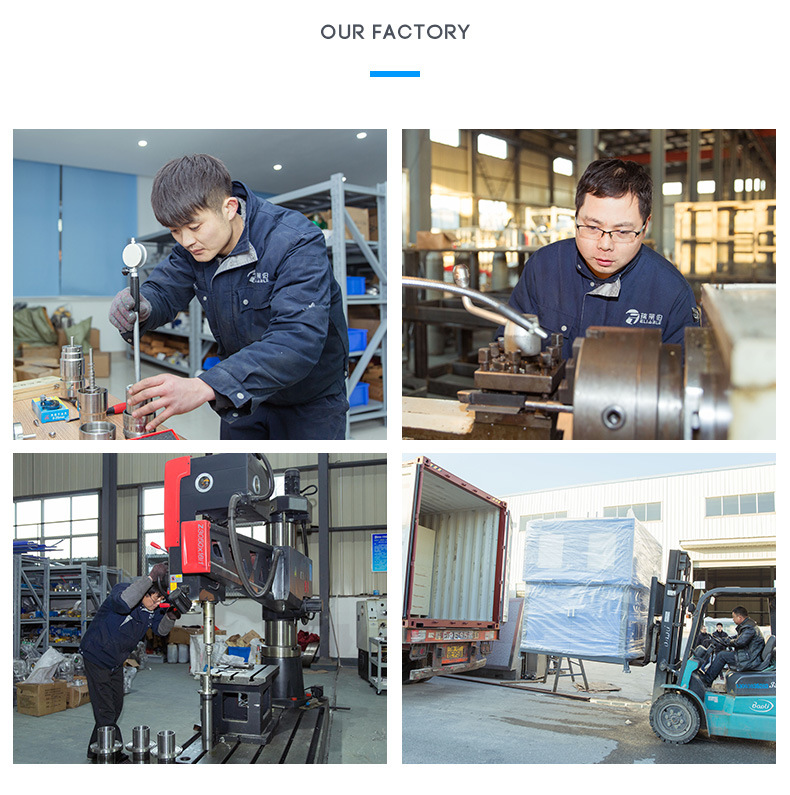 Full Automatic Plastic Bottle Lemon Juice Beverage Water Filling Machine
The sample service
1.we can send you the video of the running machine.
2.you are always welcome to come to visit our factory, and you may see the operation of the machines here . We will make the arrangement to pick you up when you come .
3.If we get the permission of the customer who has brought the machines from us ,we can tell you their contact information, you can go to visit their factory.

Customized service
1.we can design the machines according your requirements(material ,power,filling type,the kinds of the bottles, and so on).
2.at the same time we will give you our professional suggestion .

After-sales service
1.we will provide the bill of load on time to make sure you can get the machine quickly
2.when you finish the Preparation conditions ,our engineer will go to your factory for the installation, testing and also training .
3.we provide one year warranty with spare parts free.

We Warmly Welcome Customers All Over The World To Our Company.If You Have Interests In Our Products,Please Contract With Us FREELY!
ZHANGJIAGANG RELIABLE MACHINERY CO.,LTD