Working Principle:
It is a continuous belt drying machine for batch production. This series of dryer features high drying speed, strong evaporation intensity, and good quality. For the paste-like materials such as dehydrated filter cake, they can be dried after being granulated or shaped into strip.
Product Features:
DW series multi-layer belt dryer is suitable for large-scale production of difficult-to-dry materials with low drying rate. The equipment has compact structure, small footprint, simple operation, convenient maintenance and stable operation. It can be designed into different hot air circulation drying forms according to the drying characteristics of the materials. It is an extension and improvement of the hot air circulation oven. With the technological advancement of the enterprise and the improvement of the technical content of the products, the multi-layer belt dryer has the ability to meet large-scale production, diversification, centralized control and continuous production. It has the advantages of high efficiency, energy saving and easy management.
Application:
It is used for drying sheets, strips and granules shaped materials with good air permeability. It is widely used in metallurgical additives, chemical industry, food, packaging and other fields, especially suitable for materials with high moisture content but the material temperature is not allowed to be high, such as coconut chips, dehydrated vegetables, catalysts, pharmaceutical herbal medicines, food, vegetable, fruit, tea, cassava chips, cocoa beans etc.
Technological Process: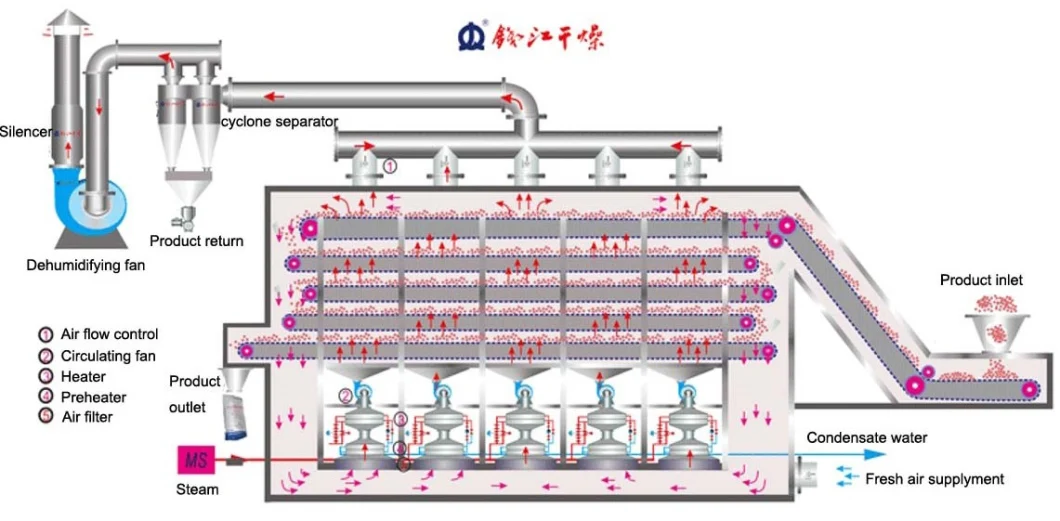 Technical Parameters:
Table1. Basic parameters of DW series nine-layer dryer
Model

Unit

DW9-1.2-6.4

DW9-1.2-8

DW9-1.6-10

DW9-1.6-12

DW9-2-16

DW9-2-20

Mesh width

m

1.2

1.6

2

Drying section length

m

6.4

8

12

16

20

24

Material distribution thickness

mm

30

~

50

Operating temperature

ºC

50

~

80

Steam pressure

mPa

0.2-0.5

Water evaporation

kg/h

150

~

260

180

~

315

290

~

500

350

~

610

570

~

1000

720

~

1250

Steam consumption

≤

2kg steam/Evaporation 1Kg water

(

for vegetable&Chinese herbal medicine

)

Total power

kw

33

42

70.5

84.5

142

176

Dimension

(

l×b×h

)

m

9.5×1.8×5.7

11×1.8×5.7

13×2.2×5.7

15×2.2×5.7

19×2.6×5.7

23×2.6×5.7

Weight

kg

13000

16500

27350

32800

54800

68500
Table2. Basic parameters of DW series seven-layer dryer
Model

Unit

DW7-1.2-8

DW7-1.2-10

DW7-1.6-8

DW7-1.6-10

DW7-2-8

DW7-2-10

Mesh width

m

1.2

1.6

2

Drying length

m

8

10

8

10

8

10

Material distribution thickness

mm

10

~

50

Operating temperature

ºC

50

~

120

Steam pressure

mPa

0.2-0.5

Water evaporation

kg/h

120

~

300

160

~

400

150

~

375

190

~

475

200

~

500

240

~

600

Steam consumption

≤

2kg steam /evaporation 1Kg water

(

for vegetable&Chinese herbal medicine

)

Total power

kw

27

27

40.5

40.5

40.5

49

Dimension

(

l×w×h

)

m

11×1.6×3.5

12.5×1.6×3.5

11×2.0×3.5

12.5×2.0×3.5

11×2.4×3.5

12.5×2.4×3.5

Weight

kg

4800

5780

5400

6550

6350

7800
Table3. Basic parameters of DW series five-layer dryer
Model

Unit

DW-5-1.2-8

DW-5-1.2-10

DW-5-1.6-8

DW-5-1.6-10

DW-5-2-8

DW-5-2-10

Mesh width

m

1.2

1.6

2

Drying section length

m

8

10

8

10

8

10

Material distribution thickness

mm

10

~

50

Operating temperature

ºC

50

~

120

Steam pressure

mPa

0.2

~

0.5

Water evaporation

kg/h

100

~

250

120

~

350

110

~

320

140

~

400

150

~

450

200

~

550

Steam consumption

≤

2Kg steam/evaporation 1kg water

(

for vegetable&Chinese herbal medicine

)

Total power

kw

21.2

21.2

21.2

22.7

22.7

22.7

Dimension

(

l×b×h

)

m

11×1.6×2.7

12.5×1.6×2.7

11×2.0×2.7

12.5×2.0×2.7

11×2.4×2.7

12.5×2.4×2.7

Weight

kg

3800

4780

4400

5550

5350

6800
Table4. Basic parameters of DW series three-layer dryer
Model

Unit

DW3-1.2-8

DW3-1.2-10

DW3-1.6-8

DW3-1.6-10

DW3-2-8

DW3-2-10

Mesh width

m

1.2

1.6

2

Drying section length

m

8

10

8

10

8

10

Material distribution thickness

mm

10

~

50

Operating temperature

ºC

50

~

120

Steam pressure

mPa

0.2

~

0.5

Water evaporation

kg/h

80

~

220

100

~

320

90

~

300

120

~

380

130

~

400

180

~

500

Steam consumption

≤

2kg steam/evaporation 1kg water

(

for vegetable&Chinese herbal medicine

)

Total power

kw

21.2

21.2

21.2

22.7

22.7

22.7

Dimension

(

l×b×h

)

m

11×1.6×2

12.5×1.6×2

11×2.0×2

12.5×2.0×2

11×2.4×2

12.5×2.4×2

Weight kg

kg

3000

4000

4400

4550

4300

6000