Product Name

Green Tea Extract

Part Used

Leave

Appearance

Brown Powder

Active Ingredient

Tea Polyphenols
EGCG
1,3,7-Trimethylxanthine

Specification

20%-98% Tea Polyphenols
98% EGCG
10%~30% 1,3,7-Trimethylxanthine
Epigallocatechin gallate (EGCG), also known as epigallocatechin-3-gallate, is the ester of epigallocatechin and gallic acid, and is a type of catechin.
EGCG, the most abundant catechin in tea, is a polyphenol under basic research for its potential to affect human health and disease. EGCG is used in many dietary supplements.
EGCG is a kind of component extracted from Chinese green tea. It is the primary active and water-soluble component of green tea, which has the highest content among the tea catechins. By virtue of its peculiar stereochemical structure, EGCG possesses much stronger anti-oxidant activities and plays an important role in preventing cancer and cardiovascular diseases. In addition, it is potent as the reversal agent of MDR (Multidrug Resistance). As such, it may improve the sensitivity of cancer cells to chemotherapy drugs and reduce toxicity on the heart.

1. Green Tea Extract has function of cancer prevention;
2. Cardio protection; prevention of atherosclerosis;
3. Prevention of tooth decay and gum disease;
4. Protection and restoration of immune system;
5. Inhibition of infectious pathogens;
6. To aid digestion and carbohydrate utilization;
7. Cellular and tissue antioxidant;
1Applied in food field, it is used as natural antioxidant, antistaling agent, and anti-fading agents.
2As cosmetics and daily chemical addiitive, it owns the effect of anti-wrinkle and anti-Aging. It can dispel spot, prevent and treat skin disease and sensibility, decayed tooth, dental plaque, periodontitis and halitosis, protect skin from the harmful solar ray and prevent skin cancer.
3 Applied in pharmaceutical field, it is used to prevent and cure cardiovascular disease, diabetes. It owns the effect of sterilization and antivirus. It is available as raw material of subsidiary and healthcare medecine.

Certificate of Analysis
Batch Number

Z20190412001

Production Date

2019.04.12

Batch Quantity

80 KGS

Item
Test Standard
Testing Result

Appearance

Powder

Complies

Color

Brown powder

Complies

Particle Size

100% pass 80 mesh

Complies

Oder

Characteristic

Complies

Taste

Characteristic

Complies

Loss on Drying

≤5

.

0%

2.2

0%

Residue

on

Ignition

≤0.1%

0.05%

Residual acetone

≤0.1%

Complies

Residual Ethanol

≤0.5%

Complies

Heave Mentals

≤10ppm

Complies

Na

≤0.1%

<0.1%

Pb

≤3 ppm

Complies

Total Plate

<1000CFU/g

Complies

Yeast & Mold

<100 CFU /g

Complies

E. Coli

Negative

Complies

Salmonella

Negative

Complies

Conclusion:

Conform with USP Standard
Storage:Closed container. dry & cool. keep away from moisture &strong light
Shelf life:24 Months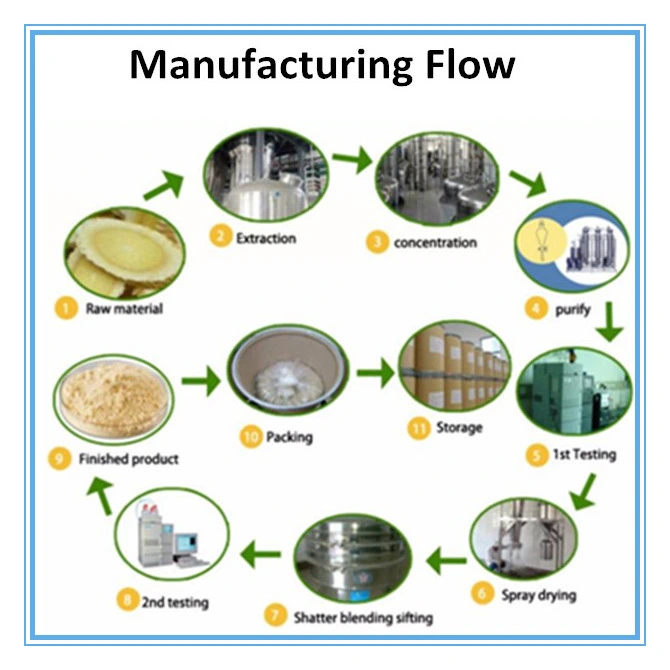 Shipping Options as follows

EMS

Around

7

-1

0

working days

DHL

Around 3-5 working days

Fedex

Around 4-6 working days

TNT

Around 6-

7

working days

By Air

Around 5-7 working days

By Sea

Around 15-30 working days

Perfect After-Sales Service
Product Pictures Showing

Shipment Tracking Number

Promptly Following Tracking Status

Delivery Notice

Product Quality Following

Product Feedback

Follow-up Improvement Suggestion

Our Products passed with Certification Halal, Kosher, ISO, FDA and so on.