Product Description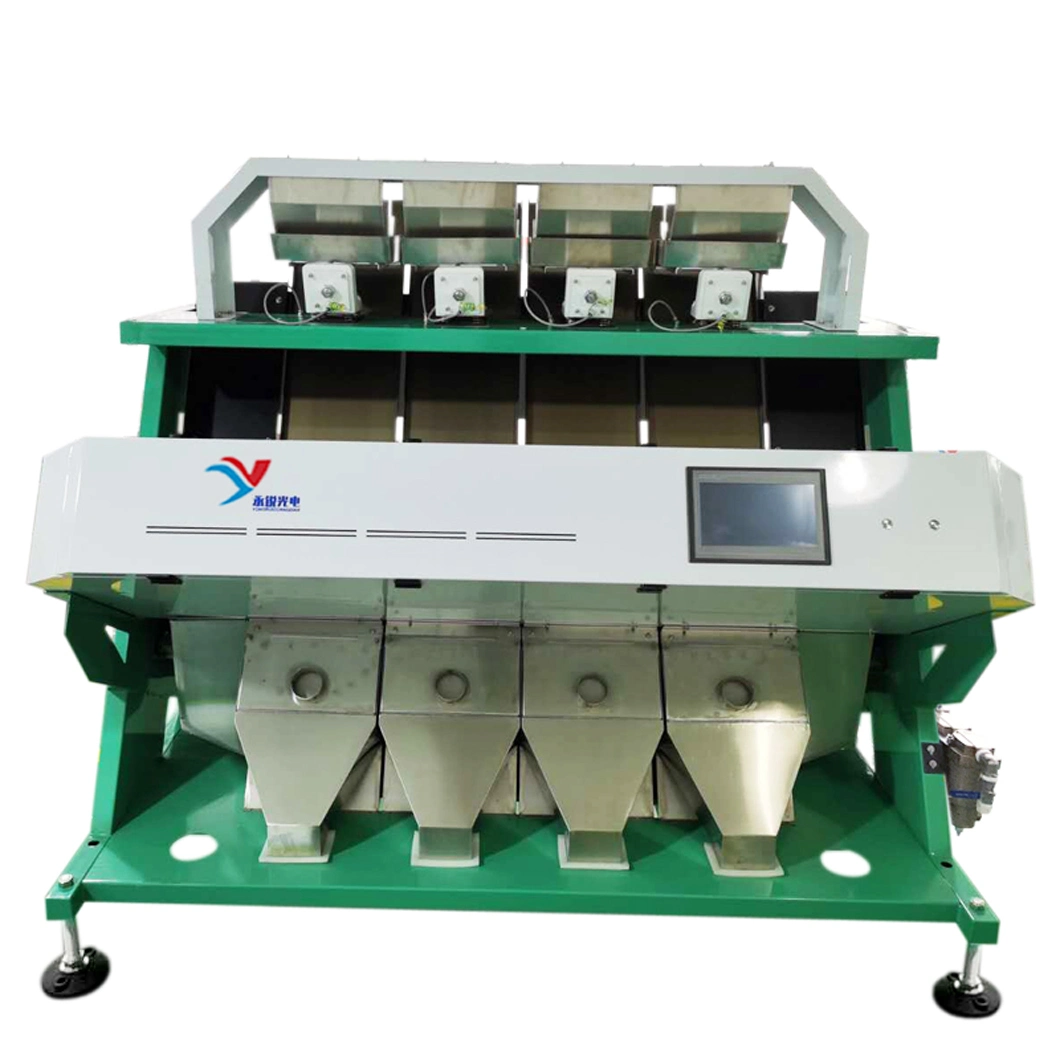 YONGRUI color sorting machine is an equipment that automatically sorts out different color particles in granular materials by photoelectric technology according to the difference of material color.The selected material enters the machine from the hopper at the top, passes through the vibration of the vibrator device, slides down the channel, accelerates its descent into the observation area of the sorting room, and passes between the sensor and the background plate. Under the action of the light source, according to the intensity and color change of the light, the system generates output signals to drive the solenoid valve to blow out the different color particles into the waste material cavity of the receiving hopper, and the good selected material continue to fall into the finished product cavity of the receiving hopper, so as to achieve the purpose of selection.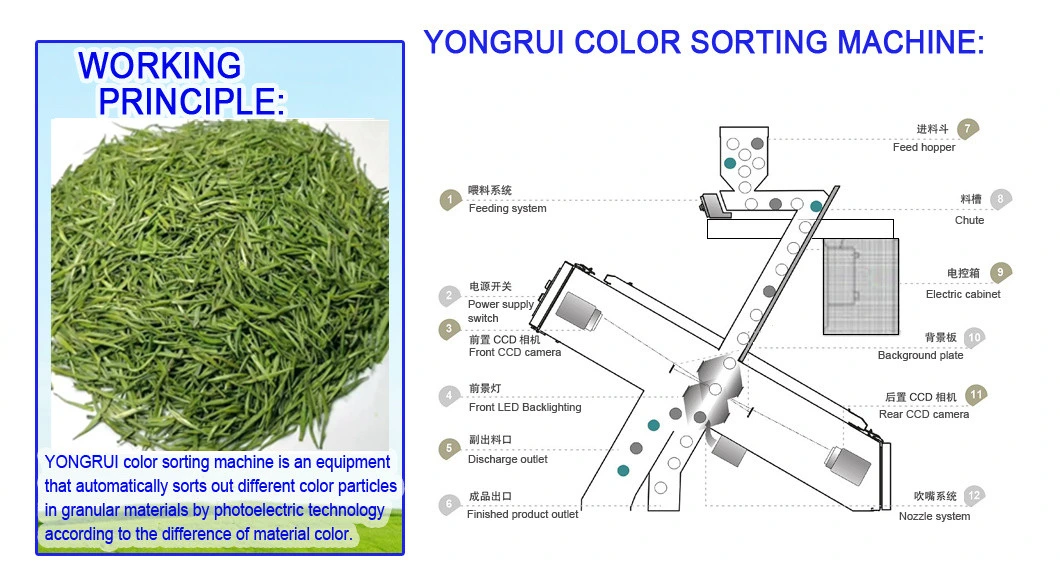 Technical Parameter

Model
YR64-1
YR128-2
YR192-3
YR256-4
YR320-5
YR448-7
YR512-8
Chutes No.
64
128
192
256
320
448
512
Output(T/H)
0.5-0.9
1.0-2.3
2.0-4.2
3.0-6.0
3.5-7.5
5.0-11
6.0-13
Sorting Accuracy(%)
≥99.9
≥99.9
≥99.9
≥99.9
≥99.9
≥99.9
≥99.9
Rejection Rate
≥30:1
≥30:1
≥30:1
≥30:1
≥30:1
≥30:1
≥30:1
Whole Power(KW)
1.1
1.6
1.9
2.6
3.1
4.3
5.5
Dimensions(L*W*H)mm
1575*833*1347
1564*1390*1663
1564*1740*1663
1564*2090*1663
1564*2440*1663
1652*2943*1703
1652*3530*1753
Air Pressure(Mpa)
0.6-0.8
0.6-0.8
0.6-0.8
0.6-0.8
0.6-0.8
0.6-0.8
0.6-0.8
Air Consumption(L/min)
150-500
400-1100
700-1650
900-2300
1150-2750
1700-3700
1900-3900
Voltage
220V/50Hz
220V/50Hz
220V/50Hz
220V/50Hz
220V/50Hz
220V/50Hz
220V/50Hz
This table is based on the raw material for mung bean containing impurities5%. The specific parameters will vary with impurity proportion, variety and size.

Application Fields
Purpose of color sorting machineThis product can be used in agriculture, food, oil, chemical, medicine and other industries, especially suitable for tea, sesame, beans, seeds, raisins, yellow rice, glass, plastic, cinder, ore, peanuts, cottonseed, wolfberry, prickly ash and other color.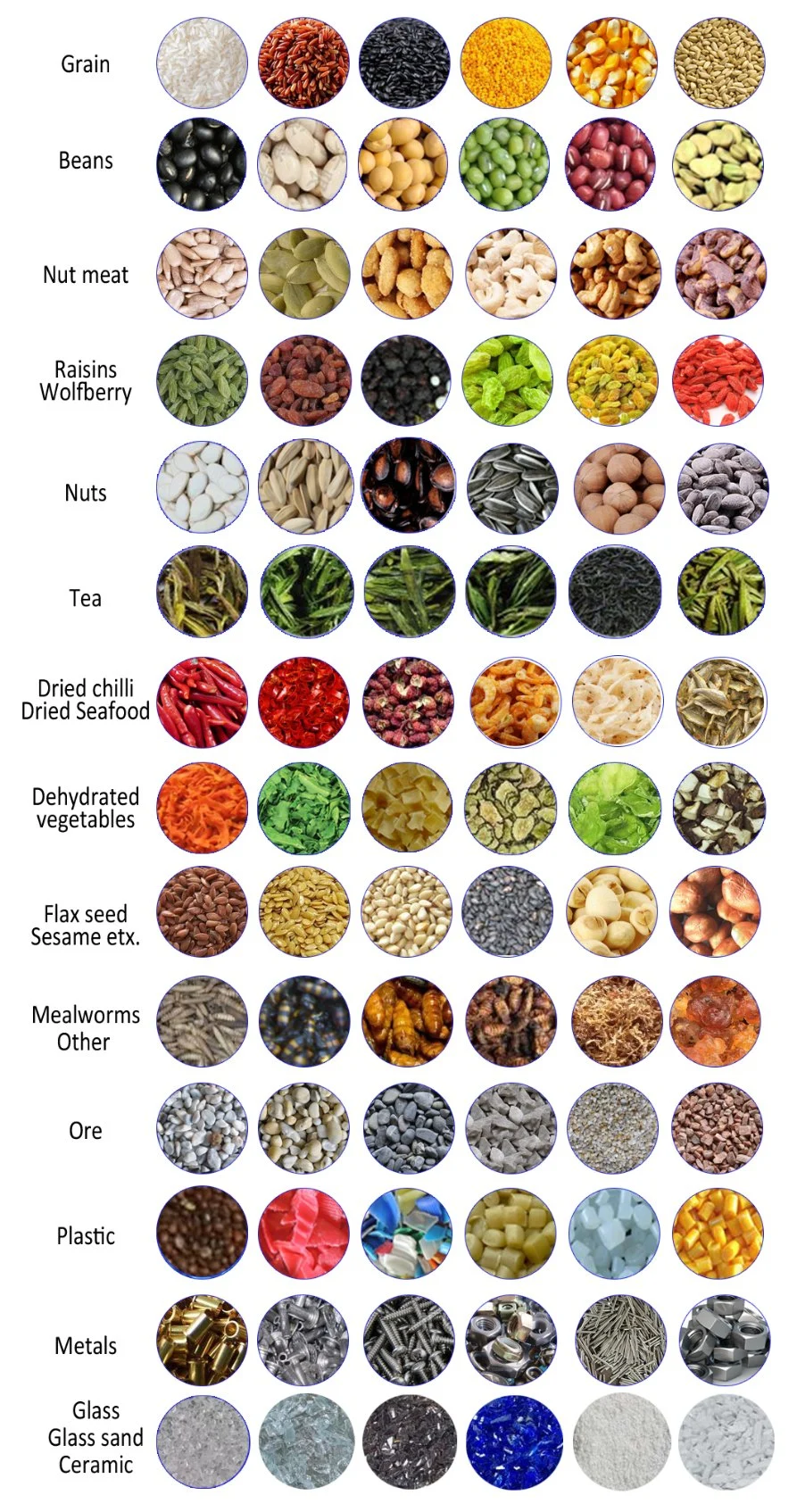 Core components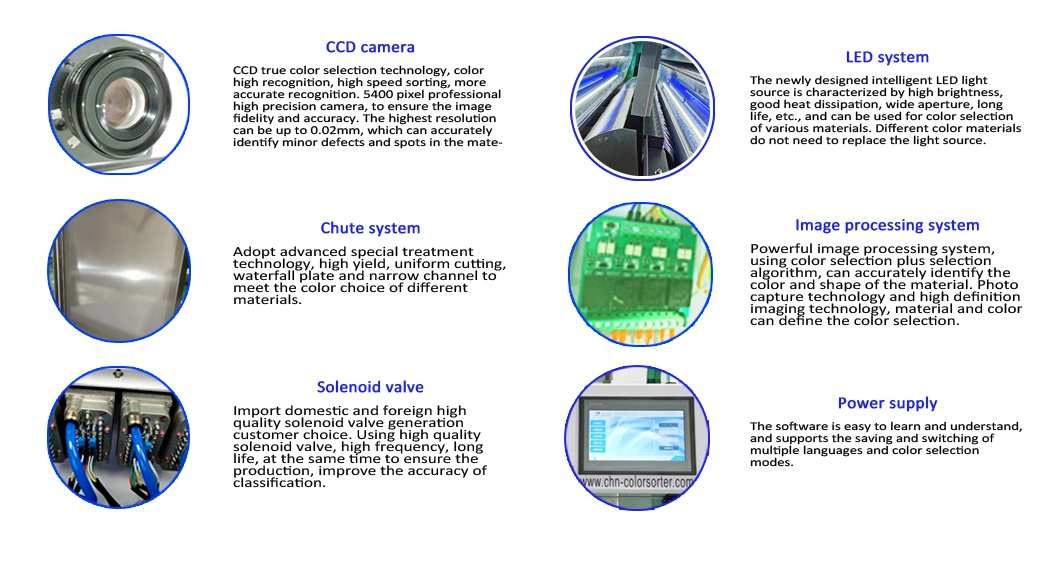 Application case and cooperation case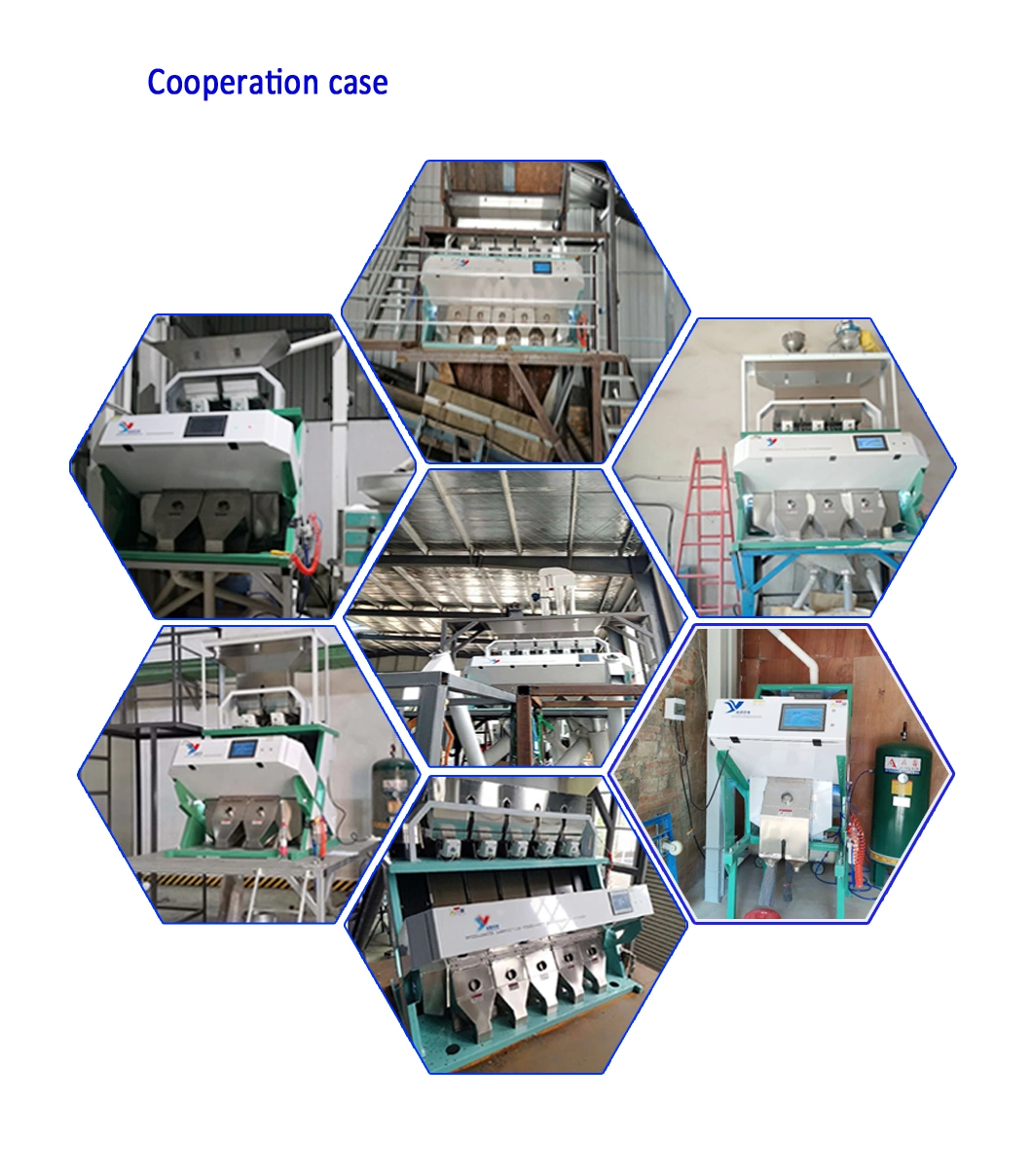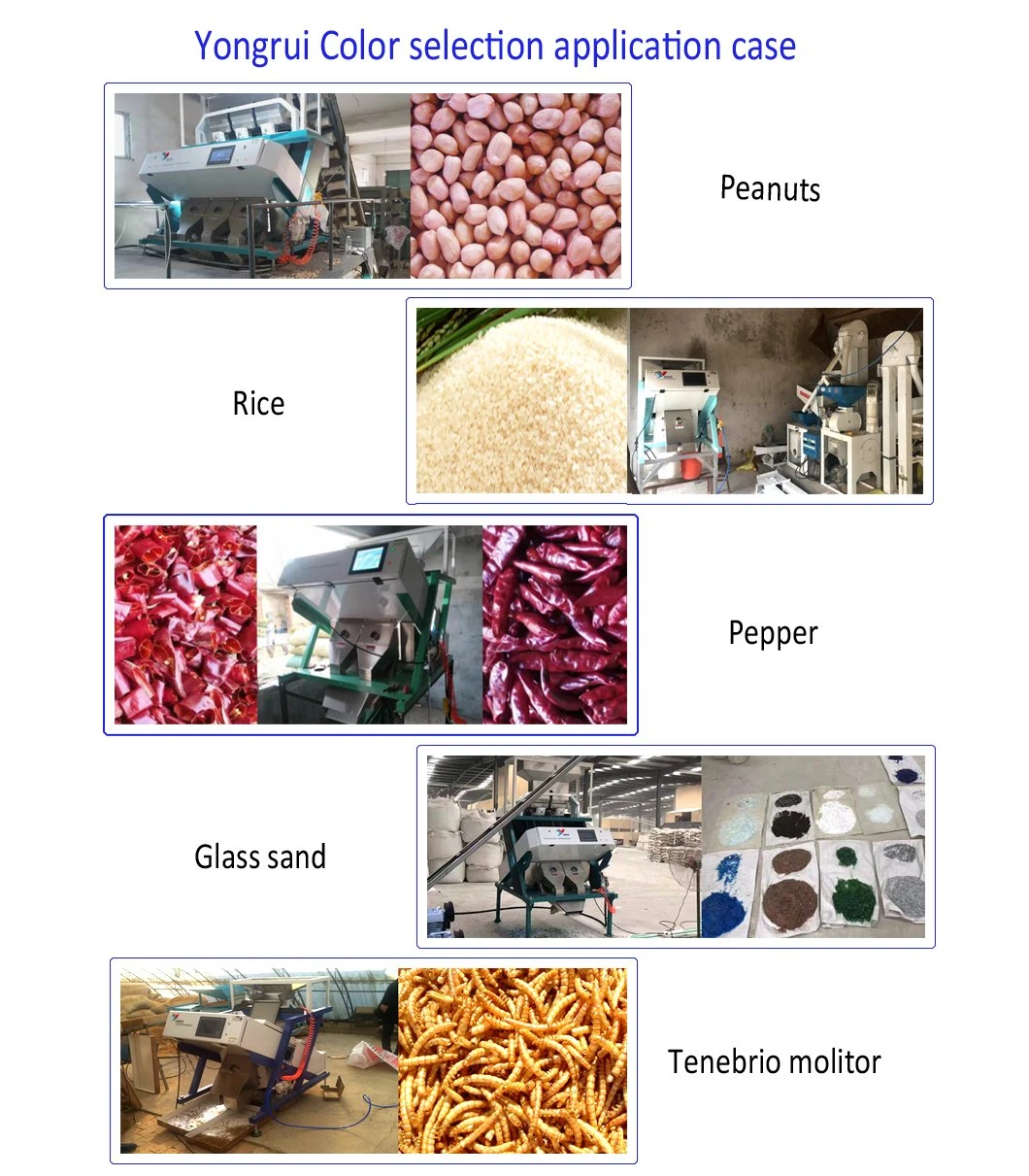 Company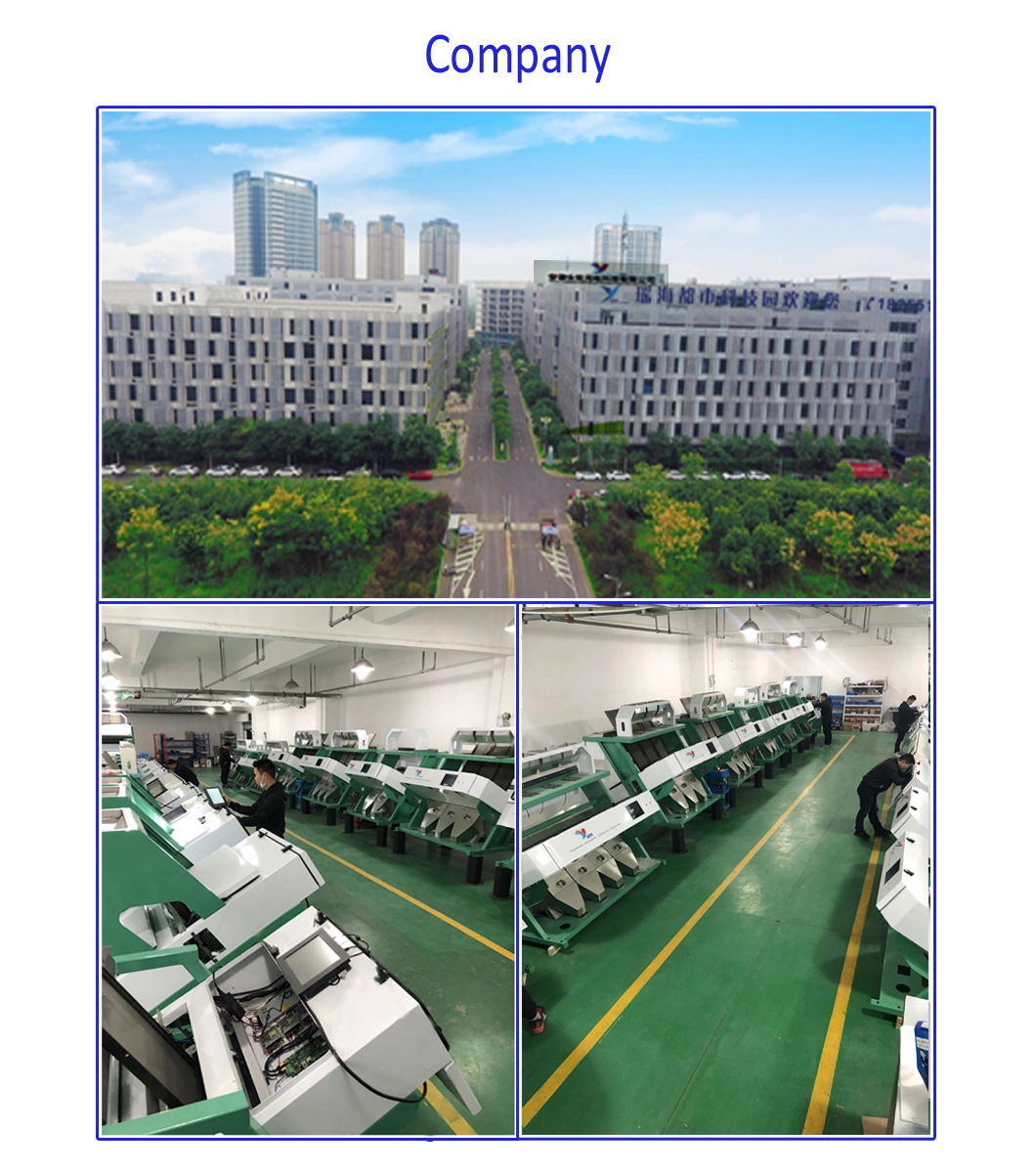 Significance of color sorting machine
Compared with manual selection, labor-saving, time-saving, high efficiency, low processing cost.Improve the quality and economic and social benefits of selected products.
Why choosing YONGRUI
Intelligent CCD image acquisition system
YONGRUI color sorter machine use the high resolution monochromatic camera or RGB camera(5000+ pixels) with high quality industrial lens to achieve clear and accurate image acquisition. The camera could capture the micro defects of material instantly
Unique image processing
Each group can be synchronized for the simultaneous separation of different models. This allows for a variety of color sorting at same time. This method both improves productivity and significantly increase the color accuracy.
Advanced tailor-made slide and track construction
The anti-oxygen chute device adopted special processing technology, make material flow more smooth, uniformly. It's also very strong and durable.
Unique lighting structure system
Advanced LED light with thermal dissipation, wide color gamut, excellent uniformity, long service life and low power consumption.
High quality solenoid valve(ejector)
The valve has longer lifespan, high frequency and low air consumption. For the different sizes and characteristics of material particle, sorters use the solenoid valve of different sizes.
Full range of automatic detection function
The color sorter has built in self-diagnostic capability verifying key components e.g.spray valve, pressure plate, camera, control panel, and background during normal operation .Identified faults can be easily rest by the user.
Perfect after-sales service and warranty service
We have a professional after-sales team and engineers. And we supply lifelong software upgrade services for our customers.
FAQ
1.Q:How long about the guarantee period?
One year. And we will supply lifelong software upgrade services for our customers.
2.Q:Will you accept L/C as payment?
L/C ,T/T is OK.
3.Q:How about engineers service oversea?
Our engineers could go abroad services when necessary.
4.How about the sample machines for testing?
Sample sending for testing is welcomed. Or you send these three photos, the raw material, good material (which is you want), bad material (which is you want to discard). We send our video to you.
5.Q:How to use the machine?
We will supply the Installation instructions or video and our engineers will train your operators.
6.Can you supply the accessories parts of color sorter?
Yes,we can supply some spare parts when you need.
7. Which machine will work together with our color sorter which you can supply?
We can provide Air compressor, air tank, air filters, Cleaning brushes, etc.