Introduction of gold trommel Scubber :
JXSC Rotary Drum Washer is with high quality and competitive price, usually the trommel drum is fabricate different according different clients requirements and raw ore condition. Usually our trommel linner with high quality wire steel plate, we also can fabricate it by line rubber to make sure long more running time and more stable for the raw ore washing. About the trommel screen mesh parts, we can use different mateirals to fabricate, like as the normal steel screen mesh, pulyurethane material
screen mesh and stainless steel screen mesh etc. Also use more reliable gearbox drive, Commins diesel engine motor etc.Regard the trommel plant, we also can manufacture as our customers required, the fix statble trommel or mobile plant by trailer, with differnet drive engine design, use electric motor or diesel motor.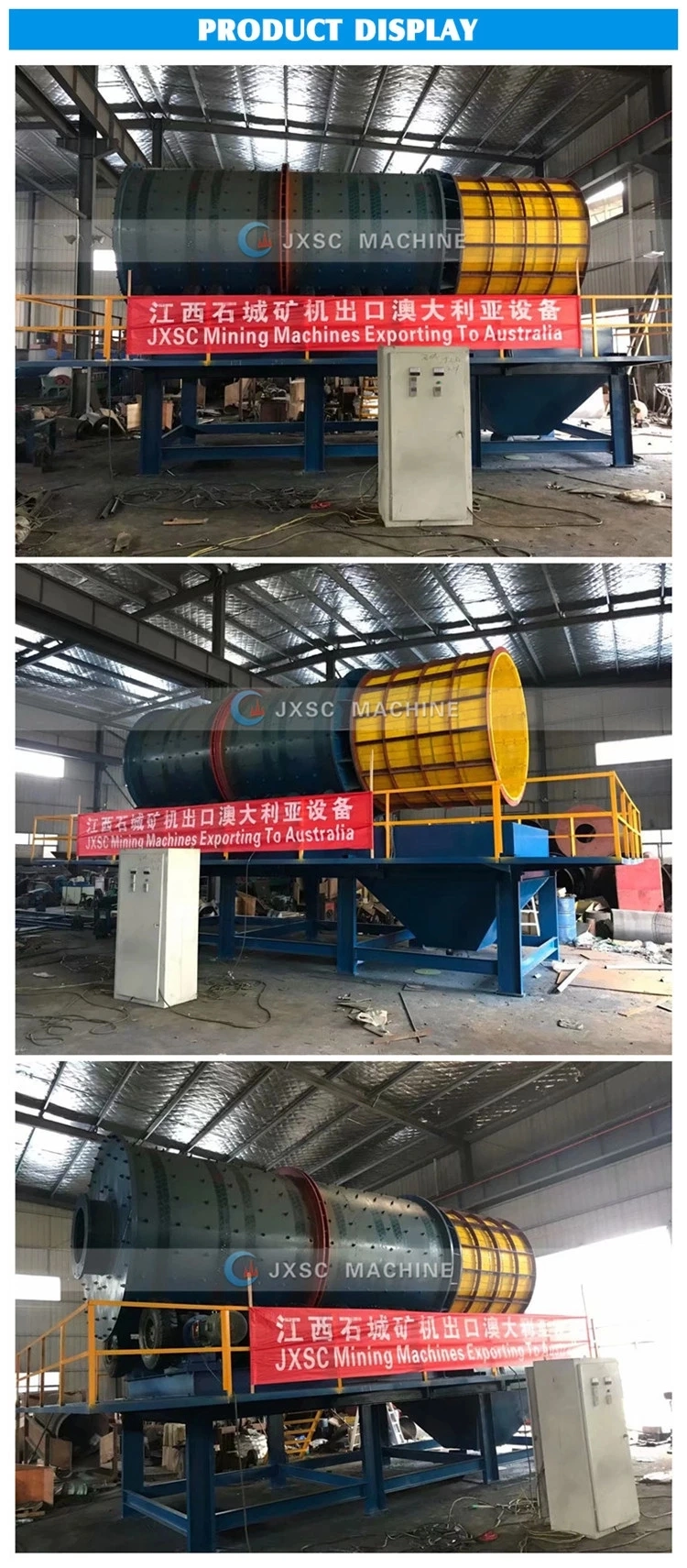 Working Principle of gold trommel Scrubber :
Using excavator to feed raw material to the hopper, then, they flow into double trommel, big stones and pebble can be separated and flow outside of the equipment, mineral aggregate with gold whose diameter is less than 6mm can enter into the beneficiation sluice through inner trommel screen, there is a fixed and high extraction ratio gold felt sluice in one side of the beneficiation sluice to extract gold particle.


Other design and processing capacity Trommel Scrubber made by JXSC
We can customize the trommel scrubber per to customer 's requirement or drawings.

Feature of gold trommel
1.Good function of washing clay, screening ores.
2.High production capacity ( can be from 1T/H to 250 T/H) & efficiency.
3.Low operating cost, easy maintenanceand low noise.
4.The length &diameter of drum, screen mesh, layer quantity of screen can be customized.
5.Can be make mobile type or stationary type.
6.Can Operatingwith other mining machines.
7.Inside drum can lined with rubber plates or welded with steel material spiral plates.
8.Screen materail can be PU or mangansese or stainless steel9.With Rubber tires driving , water spray pipes in side screen.
10.Can be with electic motor or diesel generator.
Application of gold trommel
Suitable to wash and sieve all kinds of material that with sticky clay include: alluvial gold / tin ore/ tungsten ore/
chrome ore/ coltan ore/ beach sand/ zircon sand/ diamond/iron sand/manganese ore/silica sand/ kaolin clay/
gravel stone,ect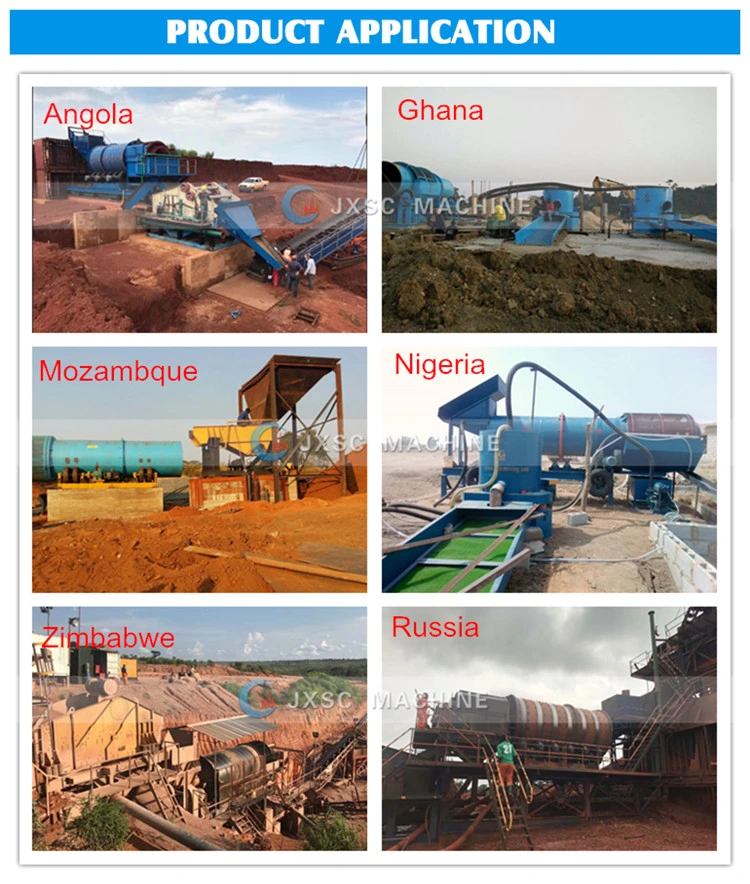 Product Advantages:
The Trommel Scrubber we customized for Angola diaond wash plant is with one of our best configuration .
1. Rubber Tire transmission ,more wear resitance than gear transmission
2. Pu Sieve is more durable than Maganese steel screen
3. Rubber liner inside trommel is more durable than iron spiral blade insdie
4. Our factory purchase high quality international standard spring to make the head stable.
5. More convenient : With discharge hopper for midding and tailing
Techical Parameter
| | | | | | | | |
| --- | --- | --- | --- | --- | --- | --- | --- |
| Model | Screen size (mm) | Rotation speed (r/min) | Feeding size (mm) | Water requirement (M3/h) | Angle of inclination (°) | Capacity (T/h) | Power (Kw) |
| 400 | ≤20 | 27.9 | ≤80 | 1 | ≤10 | 10 | 3 |
| 600 | ≤25 | 27.6 | ≤80 | 1.2 | ≤10 | 20 | 5 |
| 750 | ≤25 | 27.6 | ≤100 | 1.3 | ≤10 | 30 | 7.5 |
| 900 | ≤25 | 27.6 | ≤100 | 1.5 | ≤10 | 40 | 15 |
| 1200 | ≤25 | 19 | ≤160 | 1.7 | ≤10 | 50-70 | 22 |
| 1500 | ≤50 | 19 | ≤230 | 2 | ≤10 | 70-120 | 30 |
| 1800 | ≤50 | 16 | ≤230 | 2.2 | ≤10 | 120-150 | 37 |
| 2100 | ≤50 | 16 | ≤230 | 2.4 | ≤10 | 150-180 | 45 |
Successful Project
Ghana 100TPH Clay Alluvial Gold Ore Processing Plant
This plant's process flowchart is as below. Full set equipments include 1 set vibration feeder+1 set gold washing trommel scrubber+ 2 sets gold centrifugal concentrator+ 2 sets gold sluice box+1 set 6S shaking table+ 1 set slurry pump+ 1 set water pump+ 2 sets diesel generator+ 1 set belt conveyor and other accessories.
Vibration feeder can feed materail evenly to washing machine, the trommel scrubber washing machine is especially good washing effect for clay gold, if the gold raw material is not with much sticky clay, can use the trommel screen. Gold centrifugal concentrator is for gold concentration to remove light waste sand. Concentrate ore from centrifugal machine will go to shaking table for final concentration, then will get very high purity gold. If need to smelt to gold bar, use the gold smelting furance is ok.
JXSC can provide the gold washing plant capacity as per requested capacity from 5TPH to 200TPH or bigger, and recommend the most effective washing and separation machines as per gold ore conditions.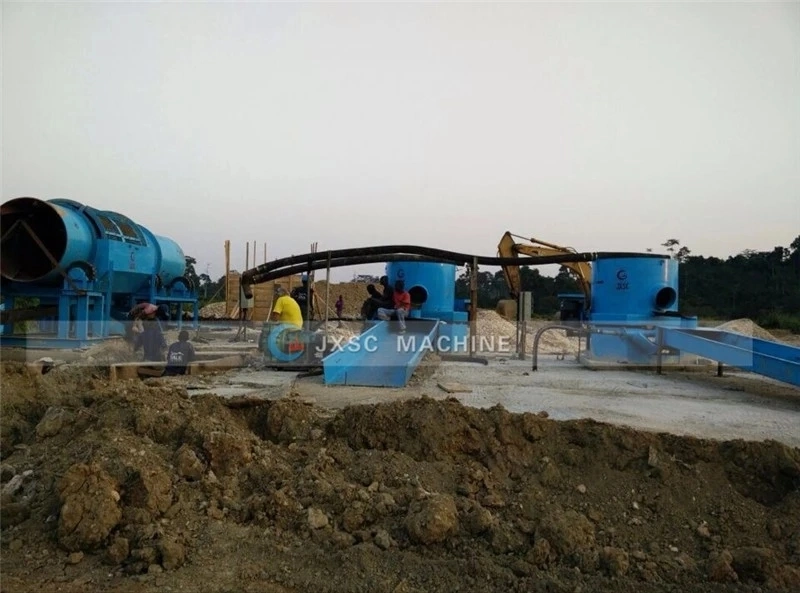 Uganda 100TPH Coltan ore Processing Plant:
Process: this plant Adopts sieving process to grading the raw ore, then big size fraction goes to grinding process, then gravity separation process with jig separator,the small concentrate would refined by shaking table in last step.
JXSC have provided a complete set elluvial coltan washing plant to Uganda miner. This plant is in 100TPH input process capacity, coltan particle size is -30 mm. We designed the process flowchart based on the ore conditions and customer's requirement , manufacture full set separation machines, and arrange engineer to mine site for equipment installation and commissioning guidance.
The complete processing plant includes the following machines:
Vibrating feeder - 1set model ZSW380*96
Vibrating screen - 1set model SZZ1250*2500
Cone crusher - 1set model PYD600
Jig separator - 3set model JT5-2
Shaking table - 4set model 6S-4500
Vibration feeder can feed coltan bearing ore evenly to vibrating machine, the vibrating screen is used to classify the material into 3 fraction.+30mm,10-30mm,-10 mm.10-30mm would goes to cone crush for grinding until -10mm.Jig separator is to concentrate coltan particle. +2mm coltan concentrate would generate on the sieve.
-2mm coltan concentrate would pass the jig separator screen and then re-concentrated by shaking table.
JXSC can design and customize solution for all coltan miners. In order to consider the best plant location and process flow. we can arrange engineer and geologist to do site survey.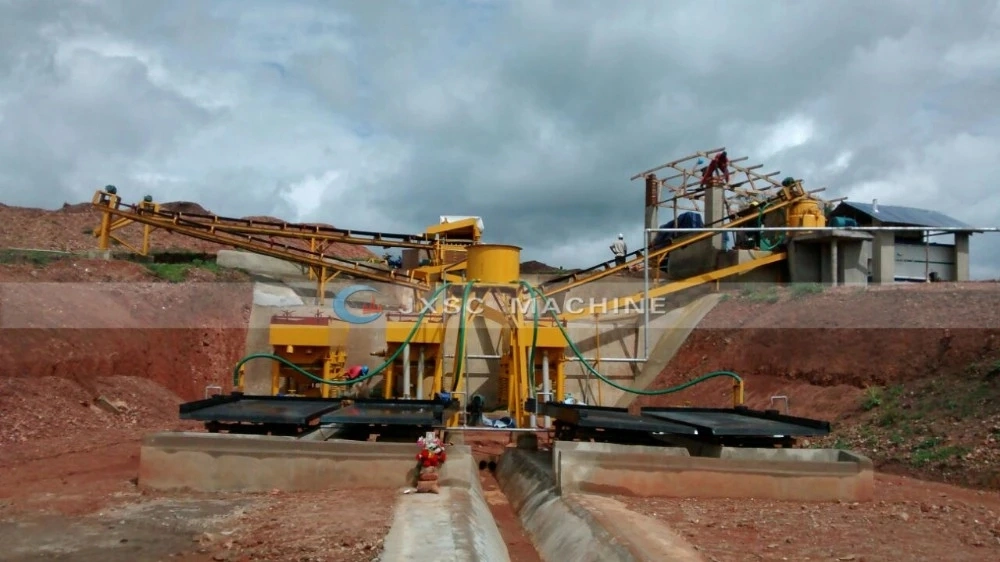 Angola 200 tons per hour Clay diamond wash Plant
Process: First use vibration feeder to feeding material to trommel scrubber, After trommel scrubber for washing clean, and separator big size out, then to vibration screen. Vibration screen also for separator different size.
This is for Angola clay diamond separator line. The capacity is for 200 tons per hour, First use backhoe get material to hopper, under hopper have a vibration feeder, vibration feeder can separator out +70mm size, then 0-70mm size to trommel scrubber, trommel scrubber is have two part, one part scrubber is for washing, one part screen is for separator different size. After trommel scrubber then to vibration screen, separator size again, then can use jig machine get diamond.
Trommel scrubber is good for clay mine washing, some mine have much clay, if not washing first, the recovery rate is very lower. The trommel scrubber is fit for clay mine washing, it can't recovery the concentration, trommel scrubber is fit for all clay mine, like gold, diamond, tin, chrome, tantalum-niobium ores and so on.
This 200 tons per hours diamond separator line is have working for one years, and it have get good effect, for now this customer want open a other 200 tons per hours line, our engineer have go mine site for inspect, first can check the existing line, most things is good, but also some details can make more perfect, Our factory is a progress factory, we need make the machine more and more perfect, beside check the existing line, also need check the new line, base the one new ore site, to choose the best machine.
Not only diamond ore, our factory also can make gold ore machine line, chrome ore machine line, tin ore machine line, iron ore machine line, tantalum-niobium ores machine line and so on, if you need more details pls contract us


Factory Workshop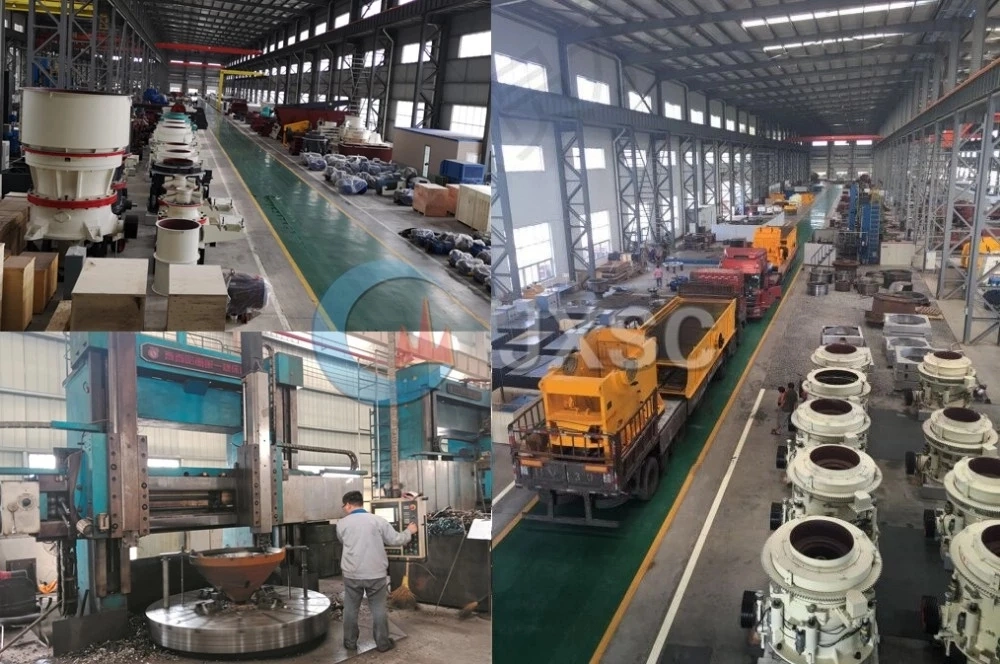 Who We Are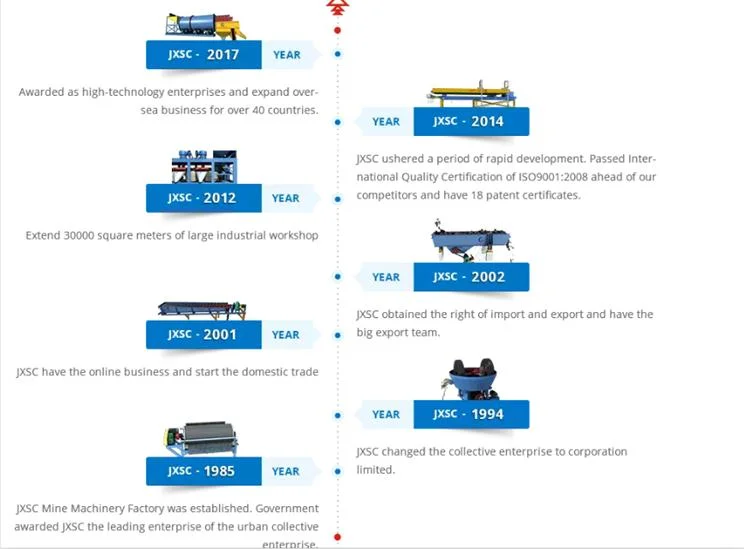 Our Happy Clients
JXSC mine machinery factory main market is in Africa, South America, Europe , Southeast Asia, Asia etc. JXSC cooperated customers cover Mali, Ghana, Sudan , Uganda, Mozambique, Suriname, Zambia, Nigeria, Cameroon, Madagascan, Malaysia, Indonesia, Korea, Philippines, Mongolia, Singapore, India, Iran, Mexico, Brazil, Chile, Peru, Spain, Canada, Australia, U.S, UAE, etc.
We have established long term relationship with Angola Top 5 diamond mining company .
we have design diamond washing and DMS plants for Congo Biggest State-Run Mining company Miba . The first order would ship in 7 40 Feet Flat Rack+ 20 more 20 feet Containers.

What We Can Supply

Jiangxi Shicheng Mine Machinery Factory mainly manufactures shaking table, flotation equipment, crushing(powder)equipment, magnetic separation equipment, screening equipment, ore washer classifying equipment, agitation equipment, spiral chute equipment, gravity separation jig, feeding equipment, milling equipment. Also we can custom-manufacture various types of mineral processing machinery and equipment according to our customers' requirements.
JXSC Mine Machinery Facotry products are widely applied for sorting gold, silver, copper, iron, tungsten, lead, zinc, tin, molybdenum, nickel, tantalum, niobium, manganese ore, coal, monazite, rutile, diamonds, other precious metals and precious metals mine, and for the flotation colored, black metal, precious metals and other minerals.The company has been awarded for many times on both excellent enterprise award , high credibility enterprise award and advanced after-sales service units award. It is the key enterprise of mineral processing machinery among the metallurgical mineral processing machinery industry.